How are your offers perceived?
We conduct surveys under the nueva brand.
What is special about it:
People with disabilities carry out the surveys and evaluate the answers.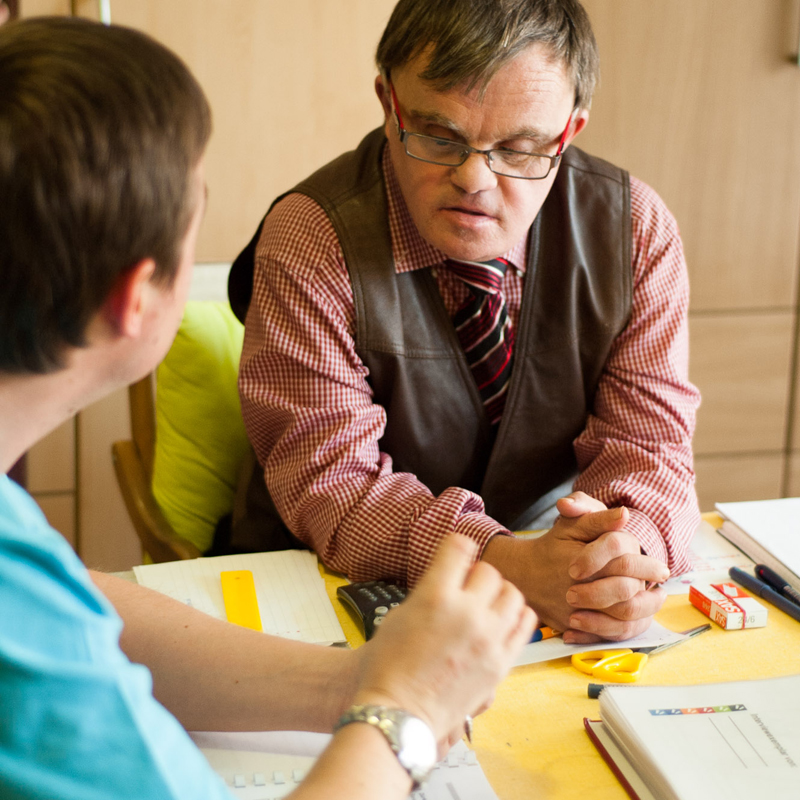 What is nueva?
nueva is a German abbreviation for "Nutzer evaluieren".
It means:
Users evaluate.
nueva reviews offers for people with disabilities.
Such a review is called evaluation.
An evaluation is a check,
whether someone has reached a certain goal.
What is special about nueva is
that people with learning difficulties and disabilities
to do this evaluation.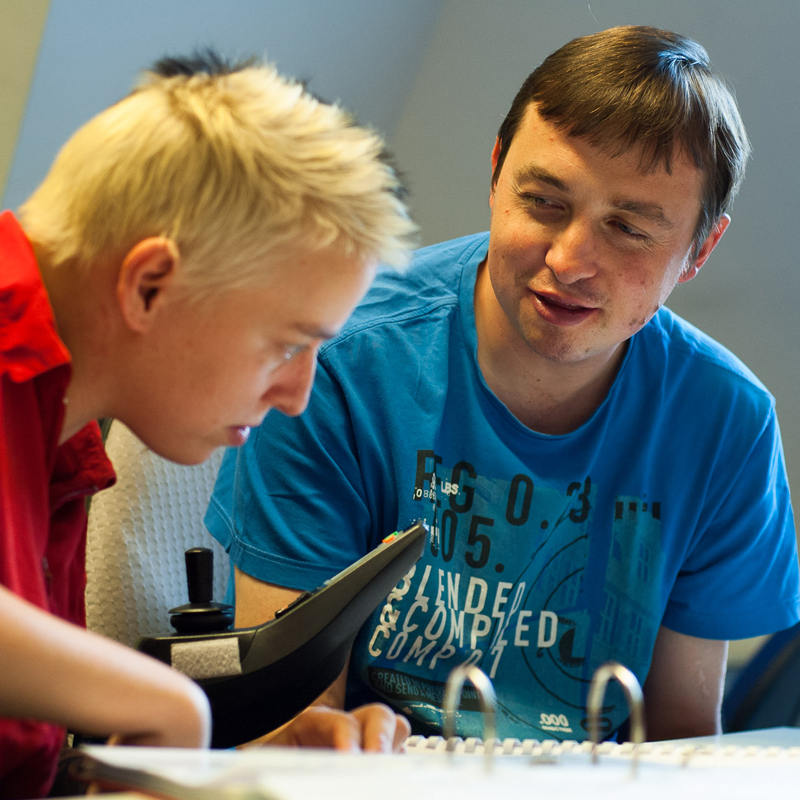 The nueva employees do interviews
with the people with disabilities
who use these services.
They also take a close look at the offers.
They review:
Job offers
Residential offers and
Employment opportunities.
That has a big advantage:
You can find out directly from the users
how good these offers are.
What can nueva be used for?
nueva can be used wherever one wants to learn more about the opinion of users on the quality of a service, e.g. in job, housing or care offers for people with learning difficulties and disabilities, for senior citizens and also for children and adolescents.
nueva was initially developed for an field that is considered difficult to assess, describe or compare: residential care for people with learning difficulties and multiple disabilities. Building on this, further instrument sets have now been developed, tested and applied in practice for various areas and target groups.
The nueva concept was developed over 10 years ago.
founded by the Verein atempo in Graz.
nueva is a Social Franchise Network
with independent partners.
It is very important for us at nueva,
that we create jobs
for people with learning difficulties and disabilities.
Every customer helps with his or her orders
that these jobs exist.
nueva is a social franchise network.
It consists of independent partners
at various locations in Austria and Germany.
nueva partners use
the experience and knowledge of the network.
But they are also working on it themselves
that this knowledge is getting bigger and bigger.
In addition, the quality of their work
is very important to the nueva partners.
They work according to the ideas of the company atempo.
nueva is available at 5 locations in Austria and Germany.
The nueva offers are also available on the Internet.
There you can search for offers
for people with learning difficulties and disabilities
You will find
assisted housing
supervised job offers
supervised employment offers
In total, nueva worked with 23,139 users from 2010 to 2017.
The nueva website www.nueva-online.info presents 705 evaluated social services from Germany and Austria with their results.
In 2017, nueva implemented 157 evaluation projects for clients in Styria, Upper Austria, Berlin, Brandenburg, Bremen, Saxony-Anhalt, North Rhine-Westphalia, Schleswig-Holstein, Hamburg, Rhineland-Palatinate and Baden-Württemberg.
nueva, die "nutzergesteuerte Evaluation", ist seit 2004 im Praxiseinsatz.
Anfänglich für alle Arten von Wohnangeboten für Menschen mit Behinderung entwickelt, ist nueva auch im Bereich der Evaluation von Ausbildungen und Werkstätten erprobt und bewährt.
Darüber wurde die nueva Methode auch für den Bereich der alten Menschen sowie für Kinder und Jugendliche weiterentwickelt und ist auch für "maßgeschneiderte" Evaluationsprojekte in anderen Bereichen nutzbar.